How to Train Your Dog to Listen
Are you going mad trying to figure out how to train your dog to listen to you? Does your dog dig in other people's gardens or pick fights with other dogs at the dog run?  Most dog owners are pulling their hair out. You're not alone.
Adding a new puppy or dog to your family is a life altering decision. It's a form of parenthood, and much like with children, dogs can bring you great joy as well as frustration when they refuse to obey your orders.
When all your efforts in teaching your pup to follow your commands seem to fail, you may even begin to question whether you're up for the job of being a dog owner. Some dog owners give their dog away!  I'm here to assure you that although it may feel daunting now, you can learn how to train your dog to listen to you – at home or in public.
You Don't Need Expensive Classes Either
Training your dog to listen doesn't require expensive training classes. The common characteristics of successful dog training methods are knowing the animal's attributes and personality, accurate timing of reinforcement and/or punishment and consistent communication.
And if you follow the right steps and are patient, persistent, and kind, you'll discover how to train your dog to listen and make it a wonderful bonding experience.  Let's start with a few basic commands that lay the foundation for your dog listening to you.
How to Train Your Dog to Come
Learning how to train your dog to listen involves many aspects. There's training him how to come, listen, sit, heel, stay and much more. Let's look at the "come" command.
Deciding on a name for your fur baby is thrilling, but you may face some disappointment to find your calls ignored. Dogs, like people, have to learn their names. Teaching them to "come" is a lot easier than it may seem. It's best done through positive reinforcement. That's the first step when learning how to train your dog to listen to you.
Training Your Dog to Come in Action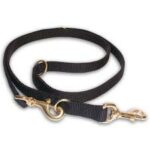 Using a leash, go to a quiet room and stand the leash's distance between you and your dog. Have a treat that they like, and hold it as close to your body as possible. In a calm voice, say your dog's name followed by the command "come" while making sure that they see the treat.
When they reach you, reward them. If they don't come on their own, gently maneuver them toward you using the leash, repeating the command. As this continues, increase the distance between the two of you. Over time, your dog will learn to associate the action with the command.
Be sure to use your dog's name as often as possible, but avoid hyper, loud tones or "baby talk." As you can see, learning how to train your dog to listen involves lots of patience and consistency.
Let's look at another important dog obedience command – the "sit" command.
How to Train Your Dog to Sit
How to train your dog to listen to you involves the first of the basic commands – the sit command. Teaching your dog to sit is easy. All it requires is a treat. When your dog is calm and has stopped eagerly jumping for their treat, hold it over their head and slowly move it back.
As they follow it with their neck, their rears will touch the ground. When this happens, give the command "sit" and reward them. Most dogs catch onto this rather quickly.
The Secrets of a Professional Dog Trainer
More information on how to train your dog without the frustration, and establishing a respectful, obedient and joyful relationship with your new companion can be found in the book Secrets to Dog Training.
Secrets of a Professional Dog Trainer is 256-page downloadable ebook jam-packed with lesson from house training to dog health.  I covers the most challenging aspects of dog training like how to stop chewing, jumping, barking, whining, aggression and more.
This comprehensive resource also includes an audio version of the book and over 100 videos showing you exactly how to train your dog and overcome any problem.  I highly recommend this resource to learn how to train your dog to listen to you any time!