Why Your Dog Chews Everything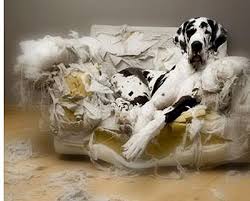 So you've had it up to here because your dog chews everything, huh? Your dog chews everything from your expensive running sneakers, to the wires in your house.
You've bought more shoes than you care to count because your dog has chewed the heels off of them.  Don't despair.  Chewing is natural for dogs.
Even the best trained dogs will chew. The difference between a trained dog, and a dog that chews everything, is that the trained dog has had proper obedience training and knows what's appropriate to chew on and what's not.