Irish Setter training is essential for this breed. These are very high-energy dogs with a lot of spirit and stamina. They're intelligent, affectionate, and independent. Just like the Jack Russell Terrier, the Irish Setter are used for all types of hunting since they have a wonderful sense of scent and love to run and to swim.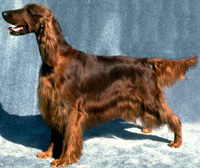 The Irish Setter makes an excellent family dog as they love children and  get along well with other pets.  However, part of your Irish Setter training must include your securing your backyard fence.
They also require a lot of exercise.  If you live near a park, aim for at least 1 hour of exercise in the morning and 1 hour of exercise at night.  If you don't give this dog enough exercise, training an Irish setter will be difficult.
Difficult to Train

Because of their independent spirit, Irish Setter training can be difficult. They need a loving but firm trainer starting at an early age. This breed easily falls into bad habits, so start teaching them good manners immediately and be consistent.
 highly recommend training them with The Dog Training Mastery Multimedia Package by Kingdom of Pets, the #1 dog training suite online with a stellar reputation.
Both Field and Show lines make good pets, but if you want a smaller dog with a shorter coat, choose a field line (which also tend to be higher energy).
This is definitely not an apartment dweller.
Diet and Exercise
This breed is especially likely to bloat, so feed 2-3 meals a day in raised bowls. And make sure they get at least an hour of exercise daily. The Irish Setter is also prone to epilepsy and severe skin allergies.
Grooming
The very long soft coat sheds constantly with the entire coat shedding twice yearly.  Brush the dog at least weekly, and preferably daily following the direction of the hair growth from the head to the back.
Brush from the top of the body down to the trunk, and from the tops of the legs to the feet.
Comb your Irish setter with a wide-tooth comb to break up tangles and remove mats that the brush may have missed. The hair on the Irish setter's legs and flanks, and under the elbows, abdomen and ears, is particularly susceptible to tangles, as it is wispy or feathery in nature.
For more Irish Setter grooming tips as well as a comprehensive dog obedience, house training and dog health package in one please go to Dog Training Mastery Multimedia Package
Evaluate Your Dog's Learning Style
Did you know that all dogs have a learning style that can greatly affect their ability to house train as well as their ability for obedience training?   It's important to evaluate your Irish Setter's learning style and personality before adopting one.
In the event you already have an Irish Setter, there are some really great dog training videos and books online.  I happen to swear by The Dog Training Mastery Multimedia Package by Kingdom of Pets.