Training a Doberman Puppy – The Basics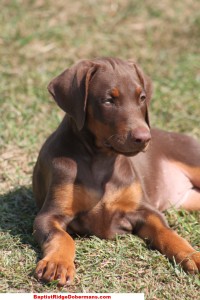 In order to get on the right foot with training a Doberman puppy, it's important to become familiar with the traits of this breed. Even though there are many constants in dog training, all dogs do not train the same way just as all breeds are not intended for the same purpose.
It's likely you've selected a Doberman for certain reasons, so understanding the dog's nature is a big part of developing the relationship between you and your Doberman. Dogs grow and learn just as we do, and the process of Doberman obedience training will likely begin with housebreaking your puppy.
However, housebreaking your doberman is certainly not the end of the training. In fact, it's only the very beginning of training a doberman puppy.  However, the potty training  will just ensure that the future holds a clean training ground.  From this point the juvenile Doberman dog training begins, and that will transition to adult Doberman dog training.
Treat Your Doberman Firm But Gentle 
Dobermans are kind dogs that make excellent companions, and they also have an aggressive side to their nature that can translate into reliable guardians of the property. By training a doberman the right way from the beginning you'll be successful in avoiding behavior issues.
Since these dogs are gentle by nature, they will respond favorably to firm, but gentle treatment from their owners.  Your puppy won't initially know or understand your expectations.  However, as your Doberman training progresses, your puppy will begin to understand your expectations.
The right doberman obedience training book or resource will show you how to effectively communicate your expectations to your puppy over time. Fortunately, the process can begin with the way you handle the potty training.
Set Up a Schedule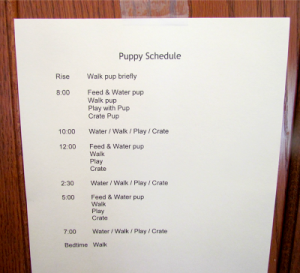 Experience from professional dog trainers shows that in training a Doberman puppy, the puppy will need to urinate at three specific times. When he wakes up, after he eats and after he plays. By keeping an eye on the pup, you'll be able to anticipate the dog's potty time.
There will be an accident or two as you go along, and remembering the firm and gentle approach will be helpful when this happens. Again, the right dog training guide will show you how to correct your dog, so your puppy  isn't afraid of you and learns the command you're trying to teach.
Be Consistent When Training a Doberman
As with the training of all young animals, consistency is the key to developing a stable pet. Doberman training will show you how to teach the dog manners, such as how to sit patiently while you prepare his or her food. The better you employ the information in Doberman training, the better the dog's behavior will be. Communicating firm commands, and rewarding the animal with a good pat or two, is all that's necessary in order to communicate a reward to a young dog.
Get a Good Doberman Dog Training Guide – Like Secrets to Dog Training Package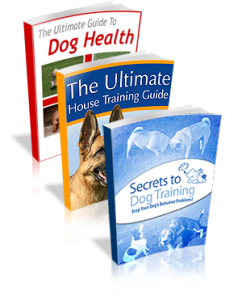 There are other forms of rewards and more advanced dog training that will be needed as your puppy grows older.   A good Doberman dog training guide will help you easily in the areas of obedience training, housetraining and dog health.  An excellent Doberman dog training guide that I highly recommend is called The Dog Training Mastery Multimedia Package:
This outstanding dog training guide consists of a 3 in 1 bundle: A dog training book called Secrets to Dog Training: Stop Your Dog's Behavior Problems, The Ultimate House Training Guide and Ultimate Dog Health Guide and step by step videos with professional dog trainers showing you exactly how to implement a command. Click on this link to see how this amazing dog training resource will help you or anyone training a Doberman!