Doggy Dan Online Trainer Review
Easy To Use

Videos

Affordable

Effective

Works on Stubborn Breeds

Good For Novice Dog Owners
Summary
This is a step-by-step online dog training program with over 160+ dog training videos. More importantly, new videos are added weekly. You also get videos on dog psychology, so you can understand how dogs view their world.
Doggy Dan The Online Dog Trainer Review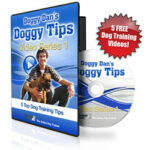 Getting your puppy to respond to your commands can be difficult, especially if you are unsure of how to train them effectively. Doggy Dan, The Online Dog Trainer, can help you get your dog or puppy to do exactly what you want with ease. This video-based website provides users with hundreds of unique videos that teach the dog owner how to implement dog training techniques correctly.
While you may have been told how to perform a training technique, being able to see it done is more potent.  The right information and tools are the key to successfully training your dog.
The Online Dog Trainer Review: What is This Product?
If you haven't been successful in training your dog or puppy, it's likely that all you need is a little bit of help in performing the right techniques so that your dog responds properly.  Behavioral training becomes easy when you're able to understand what's going on in your dog's mind.  Then you can discover what they respond to best.
Over 250 Videos
The Online Dog Trainer gives users access to a ton of information along with quality videos that show untrained dogs being trained with ease. By watching live cases of dogs being trained in their natural environments, you'll  be able to see the ways in which Doggy Dan works along with the before, during and afters of dog training.
This product is ideal for the everyday puppy owner who simply wants to create lasting changes.
The Online Dog Trainer Review: Benefits
There are many benefits that come with taking advantage of The Online Dog Trainer product.  First and foremost, you're able to fit training into your own busy schedule.
Regular training classes may not always be economical or convenient. So being able to watch videos and train at your own pace is a huge plus. Train when it suits you, from the comfort of your own home.
Doggy Dan's The Online Trainer also helps you understand how to do things the right way from the start, rather than trying to implement training advice that simply doesn't work.
By using the 5 Golden Rules of Becoming The Pack Leader, you'll be able to win over your dog's mind and will start to see results quickly.
Product Sections in The Online Dog Trainer Review
This dog training product is divided into several different sections – each focusing on a different area of training. These sections include:
How To Become The Pack Leader
Everyday Tools & Techniques
Puppy Training
Project Moses Video Diary
Dog Problems and Dog Training
Each section offers its own steps to success, video training sessions, audio files, PDF downloads, articles and more. With a full range of dog behavioral issues covered, along with easy solutions to urgent problems, training your dog has never been easier than it is now.
Weekly Video Updates
Doggy Dan's The Online Trainer also includes bonuses for monthly members, including forum access, weekly video updates and access to a convenient download library. This product is designed to help you achieve fast and permanent results without the added stress.
Buy Doggy Dan The Online Trainer!