Stop Poodle Barking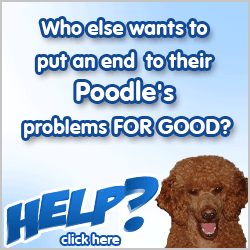 Poodle barking is annoying.  Actually, any dog's incessant barking is annoying.  Your dog's barking can cause you to lose sleep.  It can cause you to lose the good will of your neighbors. 
Worse, poodle barking can cause you to lose your apartment!  But if you follow these tips, you'll be able to stop your poodle barking once and for all!
Understanding The Cause of Barking
To bark is natural for a dog.  Barking is a dog's way of communicating with humans.  Barking is also a dog's way of communicating with each other. 
Lastly, barking is the way dogs alert you that there's an intruder. 
So you'll never get your dog to stop barking permanently – nor would you want to.  Barking becomes a nuisance when it's constant and without merit.  You have to first rule out the obvious when trying to get poodle barking under control.
Is Your Poodle Hungry or Thirsty?
Your poodle may be barking because he's hungry.  When was the last time you fed your dog?  If it's been more than 5 hours, your dog is probably hungry.  Feed your dog ample amounts of food and don't make them wait to eat too long in between meals. 
Dogs get cranky when they don't eat, just like humans.  In fact, put your dog on a regular feeding schedule.  One of the mistakes I made when I first got a dog was putting the dog on the same eating schedule as me. 
Unfortunately for my dog, I ate when I could – instead of eating 3 regular meals a day.   Now I know better.
Exercise Your Poodle's Brain
Poodles are a very intelligent breed.  They need mental stimulation in order to be happy.  Dog training is a very good way to tire out your poodle.  Why? 
Dog training requires your poodle to think about what is being asked of it, remember it, then repeat it when asked.  So when you're training your dog, he's doing mental gymnastics!  Limit dog training to intervals of 15 minutes.
Give Your Poodle Physical Exercise
A tired dog is a good dog!  Walking around the block is helpful in getting some exercise in for humans.  But for dogs, especially poodles, a walk around the block is not going to cut it. 
Poodles need to run around and burn off the excited energy they tend to have.  Take your dog to a dog run so he can run around freely.  If you live in New York City, there are plenty of dog runs. 
Take Your Dog To Central Park
Also, Central Park allows you to keep your dog off leash during certain hours.  If you're going to take your dog off leash in Central Park, make sure your dog has good recall. 
If you are still in the process of training your poodle to come when called, then letting him off leash in Central Park will be a disaster!
Make Sure Your Dog Isn't Lonely
Dogs bark sometimes because they're lonely.  They're anxious at the thought of you leaving them alone for long periods of time.  If you can afford to, bring your dog to a cageless doggy daycare.  The benefits of cageless doggycare are two fold. 
First, your dog gets to play all day long without being confined to a cage.   Second, he's in the company of lots of other dogs, so you don't have to worry about him being lonely.   
Physical and mental exercise, play time and dog training go a long way to curb poodle barking.