Stopping Aggressive Dog Behavior Before it is Too Late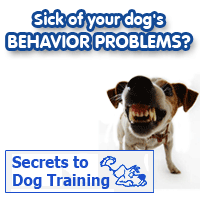 Stopping aggressive dog behavior is very important. Growling, snarling, baring teeth, lunging or snapping are all aggressive behaviors that can eventually lead to biting.
There are several types of aggression in dogs. Some of these include:
•       Dominant Aggression – This type of aggression occurs when a dog feels challenged in its social status. Dogs see their human families as part of their packs and packs in the wild always have a dominant figure.
If your dog feels that he ranks above you than he will confront you in some situations. Because dogs and humans communicate differently there are bound to be misunderstandings. Stopping aggressive behavior due to dominant aggression can be achieved by teaching your dog that you are the pack leader, not him.
•       Fear Aggression – This is a defense reaction. Dogs show fear aggression when they feel threatened in some way. Whether the threat is real or perceived real by the dog (you may be raising your hand to scratch your head but your dog might think you are about the hit him) your dog will react. Stopping aggressive dog behavior due to fear may include learning the moves not to make or moving slowly.
STOP AGGRESSIVE DOG BEHAVIOR NOW
•       Territorial or Protective Aggression – Dogs have territories that they think of as their own and if someone invades their territory a dog might get aggressive. The bigger problem occurs when a dog perceives the entire neighborhood as his territory since he has repeatedly marked it on daily walks.
Protective aggression occurs when a dog feels that there is a threat to his pack. Stopping aggressive behavior to either of these types of aggressions might include a firm no, followed by a treat.
•       Possessive Aggression – This type of aggression is used when a dog feels that something he considers as his is being threatened. This might be his food, his chew toy or even something he took from the trash.
Some things should belong to your dog, however, he can be taught to share. Stopping aggressive dog behavior due to possessiveness might include playing with your dog and his toy, sitting by him while he eats and keeping a lid on the trash.
•       Pain Aggression – Just like humans, dogs can get grumpy when they are in pain. If your dog snaps at you when you are petting him or growls when you go near his ears, these might indicate pain such as arthritis or ear infections. Stopping aggressive dog behavior due to pain can mean a visit to your veterinarian.
•       Punishment Aggression – This type of aggression results from aggression on your part. Even if you are just trying to correct your dog's behavior it is important to stay calm. If someone yelled at you, threatened you with a newspaper or hit you, how would you react? Probably with aggression.
Stopping aggressive dog behavior due to punishment aggression might be as simple as treating your dog with respect. Punishments should be given in a firm, yet respectful, voice.
It is important to stop aggressive dog behavior as soon as it starts. The longer you wait, the worse the problem gets. By stopping aggressive dog behavior early on in the game life will be more peaceful, worries of whether your dog will bite will no longer exist and everyone will be happier.