Dog Dominance & Aggression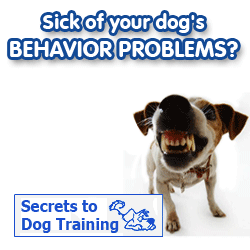 Despite people being quick to attribute any form of canine aggression to dominance, dog dominance aggression is not the culprit so many believe it to be. In fact, other forms of aggression, such as fear aggression, are far more prevalent.
However, in the wake of the wildly popular Dog Whisperer television show on the Discovery channel, dog dominance aggression has become a topic of focus among dog lovers.
Analyze This
The first step to understanding whether dog dominance aggression is the type of aggression manifesting in a dog is to identify and consider the aggression triggers. Consider the what, when, where, why, and who of your dog's aggression.
STOP DOG DOMINANCE & AGGRESSION
Understand that there can sometimes be a fine line between the fearful dog reacting to environmental stimuli and the dog displaying true dog dominance aggression. If the dog owner is still unsure, then they should speak with a trained professional.
The Pack Leader
Certain that the lovable Fido is displaying true dog dominance aggression, the pet owner must resign themselves to the truth that they have not lived up to their vital role as the pack leader. A dog requires this structure in their life.
Many of them make it easy on us, but other dogs will identify the void, and attempt to fill it. Being an effective pack leader is about being the benevolent authority. If the pet owner has not been properly serving in that capacity, it is vital to begin immediately because this is at the core of controlling dog dominance aggression.
Begin Training Early
Many dog lovers take an unstructured approach to training while the pet is still a puppy. However, this is where the behavior will begin to manifest.
Rather than simply being playtime around the clock, dog owners should use the puppy stage to instill all of the basic commands, such as down-stay, sit-stay, stand-stay, etc. Down-stay is a particularly effective tool for the owner to establish himself or herself as the leader.
Do Not Encourage Aggressive Behavior
One of our inclinations when we see a puppy is to place the end of a rope or similar item in its mouth, and play Tug-O-War. However, for the novice dog owner, it is best to focus on non-adversarial and teamwork building exercises.
A game such as Tug-O-War incites behavior that one doesn't want in an adult dog. Understand that games like Tug-O-War will not make a submissive dog dominant, especially one who is not prone to it. However, it will incite the effect in dogs where the potential lies.
Keep a Dominant Dog off the Furniture
This is an area where a novice dog owner will often make a mistake. The owner sees the dog on the couch as cute, as making it part of the family. The dog, on the other hand, views it as territory, and it carries a great deal of significance.
There is nothing wrong with allowing your dog on your furniture as long as the dog understands that it is a privilege and not a right. If you have a dog that is displaying any form of dominant behavior, then it is best to remove that privilege completely.
A great way to identify how your dog views you is to approach a doorway or threshold with the animal at your side. If the dog dashes through ahead or exerts control of the situation in anyway, there is a good chance that the animal does not view you appropriately.