How to Stop Dog Whining – Does Your Dog Have Separation Anxiety?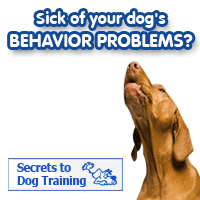 In order to stop dog whining, you have to determine why the dog is whining. Does the dog whine when it wants attention, or only when you leave the house? Does it whine when children are playing outside or some other excitement? Knowing why the dog whines is the key to stop dog whining.
Take your dog to the veterinarian for a thorough examination. No amount of training or exercise will stop dog whining if there is a medical reason for the whining.
Solutions
Increase your dog's exercise. Insufficient exercise is the most common reason for a dog whining for attention or when there is excitement outside. Most dogs need one to two long walks daily, plus some off leash play time, depending on the age and size of your dog.
A good rule of thumb is that your dog should be tired out completely twice each day. You will never stop dog whining without providing plenty of exercise and mental stimulation.
Teach your dog to use the puzzle toys available in any pet store. These require the dog to "solve" the puzzle in order to get treats. It provides needed mental stimulation as well as additional physical stimulation, and can keep some dogs well occupied.
Put the toy away when not in use; don't allow your dog to have this toy on an unlimited basis. Keeping a dog physically and mentally satisfied will often stop dog whining.
Train your dog to whine – and stop whining – on command. This is useful to stop the dog's whining along with providing extra exercise and mental stimulation, as the dog has probably also developed a habit of whining.
Start by praising and giving a tiny, very tasty treat when the dog first starts to whine; use any command you like, such as "whine" or "speak". When your dog whines on your command, begin teaching him a stop command.
Give the command "stop" or "quiet" and when he is quiet, praise him and give the treat. Soon the dog will stop whining when you give the stop command, whether a treat is given or not.
Separation Anxiety – a Special Situation
If your dog whines when left home alone, the problem is separation anxiety. This is a bit harder to treat, but it can be resolved.
Keep all departures and arrivals very low key: no hugging, petting, or emotional displays for about 15 to 20 minutes before leaving or after returning home. Emotional displays get dogs worked up and then let down when the person leaves, or the level of anxiety increases all day in anticipation of the owner's return.
A veterinarian must help to stop dog whining when you are not home as the dog may do better with anti-anxiety medication. The exercise and mental stimulation will always also be needed to stop dog whining.
If your dog was used to having another dog in the home, then getting another dog or sometimes even a cat will stop the separation anxiety. If your dog was always accustomed to being the only pet then the separation anxiety is about you, and another pet will not help.
How to Stop Dog Whining - Does Your Dog Have Separation Anxiety?

,