Preventing Common Dog Barking Problems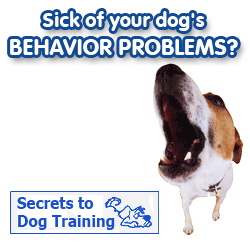 Dog barking problems are common problems that dog owner's face, especially when they live in an area that is heavily populated such as an apartment complex or subdivision.
Noisy dogs are an annoyance to neighbors as well as a cause of stress for their owners.
Before you attempt to correct your dog's inappropriate behavior, it is important to understand exactly what causes excessive barking problems.
Barking Behavior
Dogs use barking and other vocal sounds as their primary way to communicate. In the wild, wolves and other related animals use a series of sounds to alert pack members to potential threats, show dominance or submission, and to encourage play.
These behaviors are present in our domesticated dogs as well and can lead to dog barking problems. From the time a dog is a newborn, it learns that vocalizing causes a desired response. When a puppy whines its mother comes to its aid.
Click here to stop your dog barking problem!
When an older puppy barks at its littermates, they engage in play. This desired response prompts more vocalization.
Early Training
Most people want guard dogs that will alert them when strangers approach. Dogs that are in areas with neighbors close by may begin mistaking every noise they hear as a reason to sound the alarms by barking.
Because of this, it is important to teach your dog from an early age when you expect him to bark. By only rewarding your puppy when you are happy with his barking response you can foster good behavior and prevent dog barking problems before they start.
Have Patience
It is important to keep in mind when trying to prevent dog barking problems is that yelling will only further the problem. Many people become frustrated when their dog is barking, especially late at night when they are trying to sleep.
The reason you do not want to yell at your dog goes back to the idea of puppies barking to engage play. Yelling is translated as barking to your dog. When the dog barks, and you bark back, you have unintentionally engaged him in play.
Be Consistent

Consistency and repetition are very important in all aspects of dog training, and controlling dog barking problems are no exception. Make sure that every member of your family responds to the bad behavior the same way to prevent confusion.
Remove Triggers
The single best way to prevent dog barking problems is to remove whatever triggers the behavior. If your dog barks at cars passing, you may want to move the dog to an area where he cannot see the road.
If he barks because he wants your attention when he is alone, you may need to reconsider his resting place and place him closer to you.